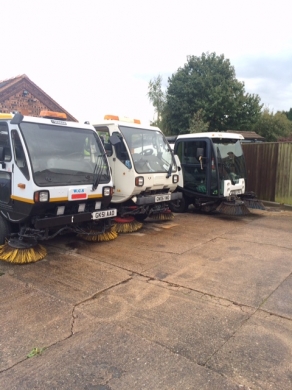 Our Scarab Minor can access areas that are too much for manual sweeping and inaccessible for the larger road sweepers.
From one off cleans to on going contract cleaning WCS road sweeper based in Walsall West Midlands
We Also Offer Site Management For
litter picking
Bin Emptying
Retail Park Management Cleaning Plan
Grass Cutting
Pressure Washer Cleaning
Building Fascia Cleaning
Winter Gritting
Snow Ploughing
Skip Hire
Bin Emptying
Staff on site cleaning /Presence
Moss Removal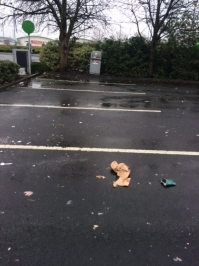 Call Free Phone
0800 999 7951
Before After
We have regular customers who use us for the clearance of school playgrounds, Retail Parks,car parks and walkways and footpaths (none toxic). WCS Road Sweeper Hire In Walsall can access areas that are too much for manual sweeping and inaccessible for the larger road sweepers.
Please take a look at how the Scarab Minor works on the sort clip below WCS Road Sweeper Hire In Walsall
Our Scarab Minor is suitable for:
• One-Off Sweep
• Road & Path Sweeping
• Gulley Cleaning
• Weed Control
• Moss Removal
• Block Cleaning
• Odour Control
• Broken Glass Collection
With a customer-focused service and very competitive prices,
we'll help you provide total site cleaning service you need.
Operated Road Sweeper Hire Available
24 Hours A Day 7 Day A week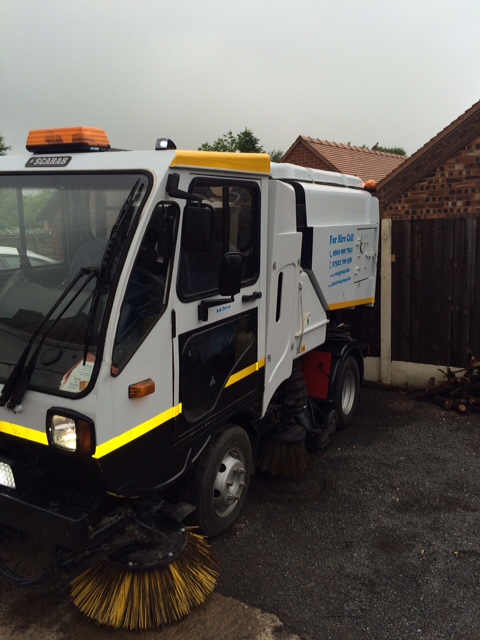 The benefits of using
WCS Road Sweeper hire Walsall include:
We offer a 24 hour service 7 days a week
We offer short term or long term contract work
No job too big or too small
All vehicles fitted with a full CCTV system
Our drivers can be contacted quickly with our in-cab mobile phones
Our Scarab Minor compact sweeper offer outstanding and efficient cleaning performance and are ideal for cleaning small roads, pavements, kerb lines, multi storey car parks, caravan park road sweeping
parking lots / industrial estates / pub car parks / Retail Parks
and Private Driveways (none toxic).
We also use these sweepers in factories, schools, parks and city centres. Retail Parks Litter and leaves are a big problem in some areas and WCS Compact Road Sweeper In Walsall is the right machine to clear them. It is also able to empty into mini skip The Scarab Minor can sweep in areas that it is not possible to reach with a big truck mounted sweeper
It also has a turbocharged Euro III diesel engine, and equipped with Sup-awash, wander-hose and rear view camera.
The compact Scarab Minor can sweep in areas that it is not possible to reach with a truck mounted sweeper.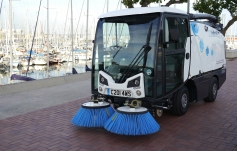 Not every business will need an outdoor sweeper, but if there are large area of car park or pathways to be kept clear or if the business is involved in construction or demolition, an appropriately sized outdoor sweeper can be a blessing when it comes to getting rid of debris and general dirt. There is a limit to how much a couple of work people can collect with a litter picker and a black bag can achieve – having a road sweeper or other outdoor sweeper specifically designed for the task can ensure that outside areas are always clean and neat.
We also hold an environmental waste transfer licence which covers all of its commercial and domestic cleaning services (none toxic). With a service operating 24 hours a day throughout the year, mainly working for private businesses and local councils on a variety of different projects such as Road Sweeping airports, quarries, landfills, schools, Fast food car parks / drive thru areas / Retail Parks

24 Hour Emergency Call Out Service Available

FOR MORE INFORMATION
TO BOOK A FREE QUOTE / SERVICE
PLEASE CALL:
0800 999 7951
Retail Parks
''''''''''''''''''''''''''''''''''''''''''''''''''''''''''''''''''''''''''''''''''''''''''''''''''''''''''''''''''''''''''''''''''''''''''''''''''''''''''''''''''''''''''
Winter
Gritting Service 24/7
We now provide a winter gritting service in the west Midlands
Our personnel will grit your premises overnight so that your site
is defrosted for the morning we also have a small push
along gritter for pathways door entrances
The arrival of winter brings harsh weather conditions to the West Midlands even a moderate snowfall can turn into treacherous ice as the snow melts and refreezes overnight.
Conditions such as these can be extremely hazardous for both your staff and clients if your premises have not been gritted, or have been gritted too late. Gritting involves the spreading of rock-salt on roads and pavements to combat against ice which, when left untreated, can be extremely dangerous.
Snow fall can arrive unexpected and during the winter season. This can pose a hazard for those travelling to work with ice roads, frozen pathways and blocked entrances.
WCS Group provide a complete snow removal service including snow ploughing and gritting for residential and commercial areas.
Our dedicated team are on hand to safely remove snow and ice during the wintry conditions reducing the risk and provide a solution to hard to access areas.
We are located in Walsall West Midlands can respond quickly for snow ploughing and gritting service.